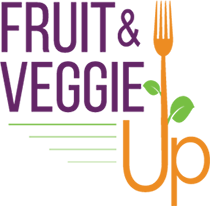 Fruit & Veggie Up!
Get Free Produce! Stop by Aggie Compass Basic Needs Center on Tuesdays and Thursdays, 11 AM – 12:45 PM! Sign up for CalFresh while you're here!
This program is made possible by donations from UC Davis Student Farm, Tandem Farm, the Davis Co-op and Nugget Markets.

Get CalFresh
CalFresh is a program that awards you up to $192 a month for groceries. Essentially, it's a free debit card for groceries.

The application process is a lot easier and we're here to walk you through it - you can enroll right here at the Aggie Compass. Stop by or make an appointment to meet with us and enroll.

The Pantry
The Pantry provides non-perishable food and basic necessities such as toiletries. Students must present a valid UC Davis ID Card in order to take up to three meals (or items) per day. 
This program is housed in the basement of Freeborn Hall, Room 21. The summer hours are Tuesday and Wednesday, 10 AM - 2 PM.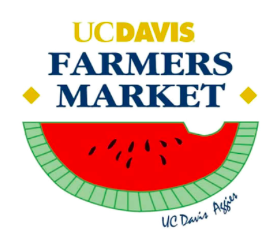 UC Davis Farmers Market
The mission of the UC Davis Farmers Market is to increase UC Davis students' access to fresh fruits and vegetables. The market is on Wednesdays on the North Quad from 11 AM - 1:30 PM. It'll begin Fall 2018 from October 3 to November 7 and will be back on the first Wednesday of Spring 2019. EBT is accepted here!
Meals in Davis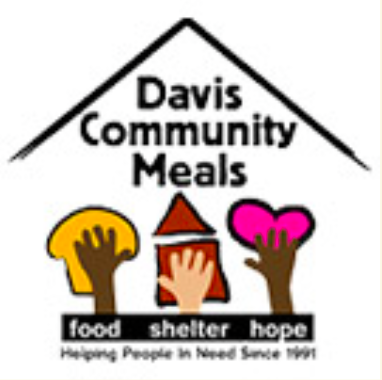 Davis Community Meals and Housing
DCMH provides free meals on Tuesday and Thursday from 5:45 PM - 6:30 PM and Saturday from 11:30 AM - 12:15 PM. The meals are prepared and served at St. Martin's Episcopal Church, located at 640 Hawthorn Lane in Davis. 
Davis Community Church

Free meals on the 1st Sunday of every month from 12:00 PM. The meals are served at 412 C Street (Fellowship Hall). 
Maps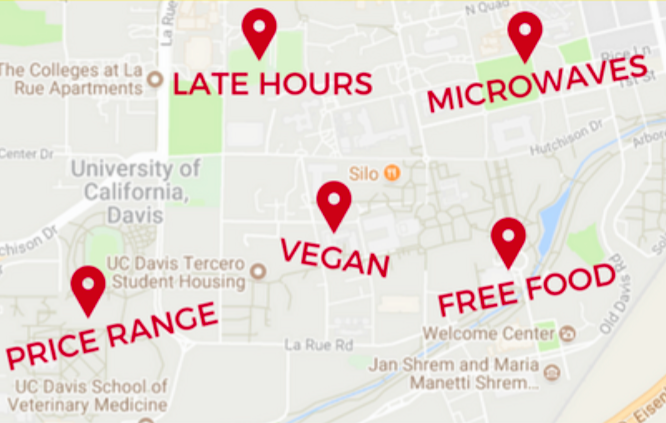 Food Access Map (On Campus locations) 
Check out this map developed by students to make it easier for UC Davis community members to find food on campus that meets their needs.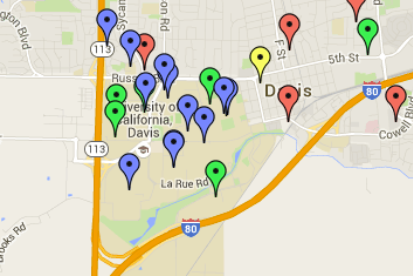 Fruit and Veggie Map (includes EBT locations) 
Check out this map to learn where you can find fresh fruits and vegetables within a 10-mile radius of Davis, California.  
Yolo Food Bank Programs
Yolo Food Bank
Anyone can access Yolo Food Bank resources at the dates, times and locations indicated below.  If you need emergency food,  come directly to Yolo Food Bank, located at 1244 Fortna Ave. in Woodland, during business hours 8:30 a.m. - 5:00 p.m., no appointment is needed.   
The Food Bank does not record names, nor does it require ID or income proof. You must bring your own bag or cart.
Program/Organization
Distribution Details
Distribution Location
Eat Well Yolo

Every 2nd and 4th Wednesday of the month from 10:00 AM to 3:00 PM.

Usually distributes fruits and vegetables.

Montgomery Elementary, Music Room M-1

Emergency Food Assistance Program (EFAP)

Every 3rd Wednesday of the month.

Usually distributes canned and dry goods.

Client must meet income requirements.

You can receive the services once a month.

Owendale Community Apartments - 3023 Albany Ave. from 5:00 PM to 6:00 PM

Friday's Harvest

Every Friday from 1:00 PM to 2:00 PM.

Usually distributes fruits, vegetables, and bread.

Davis Korean Church

603 L St. Davis CA 95616

Pole Line Road Baptist Church

Every Thursday from 9:00 AM to 11:00 AM.

Requires proof of Davis residency.

Usually canned and dry goods.

You can receive the services once a month.

 

770 Pole Line Rd. Davis CA 95616
Short-Term Emergency Aid Committee (STEAC)

Monday through Friday from 10:00 AM to 11:30 AM and 1:30 PM to 3:00 PM.

You must be referred by Davis Community Meals and Housing, 1111 H St. Davis. Call 530-753-4315 for more information.

Usually canned and dry goods.

You can receive the services once a month.

 

1900 East St. Davis, CA
Other Resources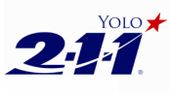 211 Yolo
211 Yolo is the information hub for Yolo County. Check out the website for the food and freshtext & markettext options and more.