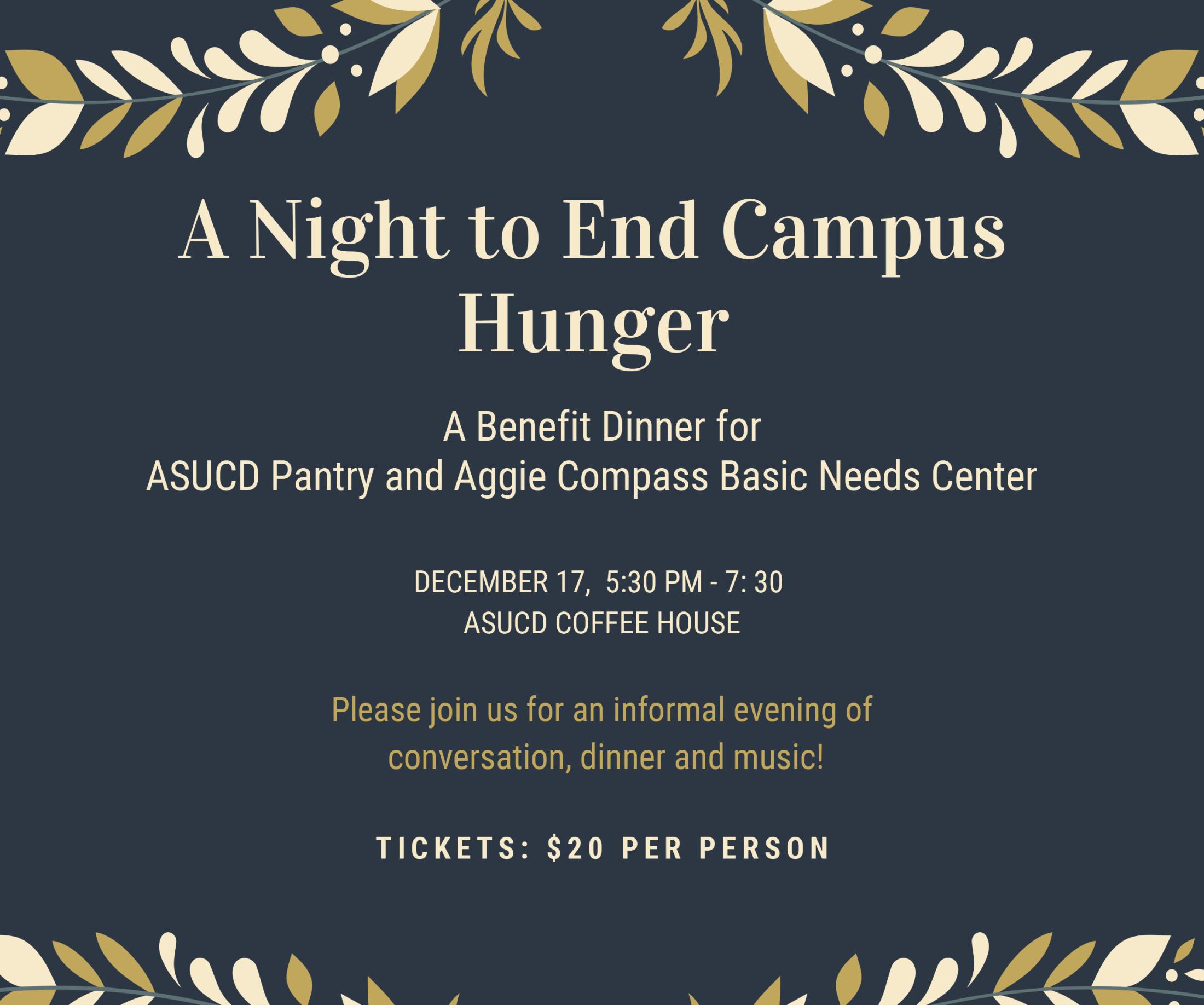 TICKETS
One $20 ticket includes entrance, dinner and program. All proceeds from this event benefit UC Davis students in need. If you would like to make an additional donation, please consider one of the following options:
Can't attend? Make a donation directly to ASUCD Pantry or Aggie Compass Basic Need Center!
MENU
Entree

Chicken Marsala

Wild Mushroom Ravioli Marsala

Sides

Rice Pilaf

Roasted Butternut Squash 

Golden and Candy Stripped Beets

Salad

Desserts

Beverages
CAMPUS PARTNERS
Fighting Hunger on Campus
The fall 2018 first-year undergraduate class is the most diverse in the history of UC Davis, with nearly half of all entering students the first in their families to obtain a post-secondary degree. More than a third of these students come from low- to very-low-income communities.
At Aggie Compass, students access free produce and other healthy foods; enroll in CalFresh; get connected to community housing options and discover mental wellness support. Aggie Compass also provides immediate crisis support by providing direct resources and connecting students to crisis services on campus and in the community.
The ASUCD Pantry aids students in their pursuit of higher education by ensuring that no student ever has to miss a meal or go without basic necessities due to financial insecurity.
Join us in our fight end hunger on campus! 
All proceeds benefit UC Davis students in need by supporting the ASUCD Pantry and Aggie Compass Basic Needs Center.