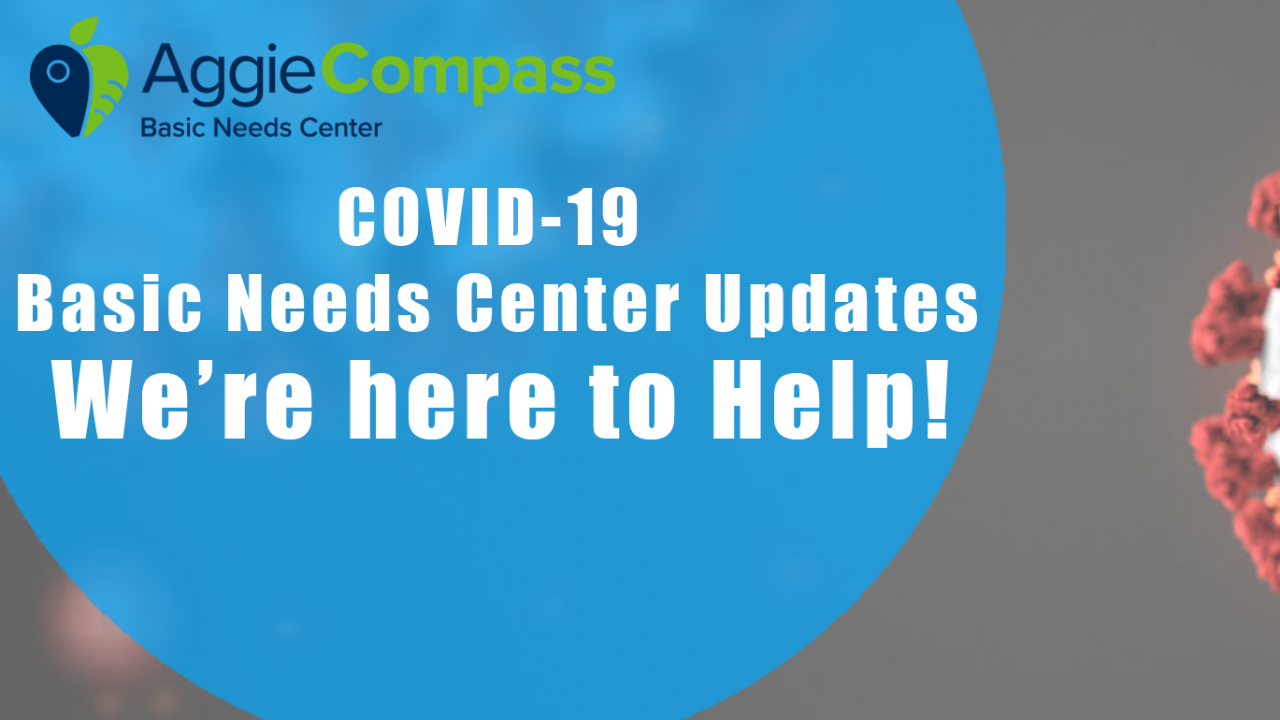 Greetings from your Basic Needs Center family, we are committed to staying open and supporting our students in need. Circumstances around COVID-19 are changing rapidly and may have impacted your basic needs. Our priority is to ensure that services will continue even if they are remote or accessible in different ways. This webpage will be updated frequently with new resource information.
APRIL 2 GROCERY BAG PICK-UP registration is closed. 
If you are a student in need of housing or emergency food resources, please submit a
basic needs resource plan request
. Check back here for next week's drop and sign up for updates as information and resources change.
We recommend our community members with active symptoms (fever, cough, shortness of breath) or those that may have been exposed to a confirmed case, call the Student Health Center at (530)-752-2300 and request an appointment.
FOOD PANTRY & AGGIE COMPASS BASIC NEEDS CENTER
The PANTRY at the Aggie Compass Center will be CLOSED next week due to the Governor's order to shelter-in place.  We are transitioning to weekly service. Sign-up for Basic Needs Update emails to find out when you can sign-up for a Thursday GROCERY BAG drop. The Pantry is closed next week, but we'll be putting grocery bags out for pick-up. If you'd like to receive updates about bag pick-up registration and other basic needs updates, please leave your email at the top right of this page.
All Basic Needs Center services are still available and provided remotely. 
If you are a student with an emergency need, ie, lacking adequate nutritious food, homeless, at risk of losing housing, etc. please communicate with us:
COMMUNICATING WITH THE BASIC NEEDS CENTER TEAM
We encourage you to communicate with us,:

 
FOOD PANTRY & AGGIE COMPASS
Aggie Compass and Food Pantry are considered essential services and will remain available as resources on and off campus. We will be monitoring the situation closely in these next few weeks and will move in alignment with public health and city decisions.
CALFRESH
CalFresh application support will still be offered by phone or Zoom.
All Yolo County CALFRESH offices are currently closed to the public
, therefore students are encouraged to
apply online
or
email the CALFRESH TEAM
for a prescreen and application support.
FREE COMMUNITY MEALS*
Davis Community Meals, 5:45-6:30pm @ St. Martin's Episcopal Church, 640 Hawthorn Ln.

Meal service on Tuesdays, Thursdays and Saturdays (to go meals only)

Grace in Action Lunch and Fellowship, 12:00noon-1:30 pm @ Davis United Methodist Church, 1620 Anderson Rd. (Mon.) & 12:00 noon-1:30pm @ Pole Line Baptist Church, 770 Pole Line Rd. (Fri)

Meal service on Mondays & Fridays ( to go meals only)

Faith and Food, 12:00 noon @ Davis Community Church, 412 C St.

Meal service on Fridays ( to go meals only)

Yolo Food Bank, 12:00 noon pantry staple bags @ C Street patio

Distribution Saturday 3/21/20
*All organizations have switched to "to-go meals" ranging from cold sandwiches to clam shell packed microwavable meals. There are free community meals available all days of the week except for Sunday.
Additional food support can be found in the Davis community:

Yolo Food Bank has committed to being open during this time and offers food distribution sites in several locations around the City of Davis and in Woodland.
If you or someone you know need additional resources
Yolo Food Bank offers a free home-delivery food service
. The program will continue until further notice. Please call 530-668-0690 or email
info@yolofoodbank.org
to participate. 
BASIC NEEDS CENTER SERVICES
CASE MANAGEMENT/CRISIS RESOLUTION SERVICES
Case management services are provided to students who are in need of support around their food, housing and financial needs. Resources available include but are not limited to:

Rental Assistance Grants
Basic Needs Grants
Temporary Shelter/Short Term Housing
Grocery Gift Card Program
Emergency Swipes Program

Students are encouraged to communicate via phone or email for support.
DROP-IN SERVICES
Fruit & Veggie Up! Is suspended until further notice.

Basic Needs Assessments will still be available remotely, please make appointments by phone or email.
OTHER BASIC NEEDS SERVICES
UC Davis Laptop Loan Program 

To qualify students either:

Do not have a laptop OR 
Have a laptop that is failing or no longer "works" OR 
Do not have a laptop with necessary features to support distance/online learning, such as a webcam and sound.

To apply, submit the IET form.

Cell phones through iFoster, for homeless and/or former foster youth
Linen/bedding Free Closet - closed until campus reopens
Basic Necessities and Toiletries Pantry - available in a weekly bag
FINANCIAL SUPPORT
COVID-19 GUIDANCE