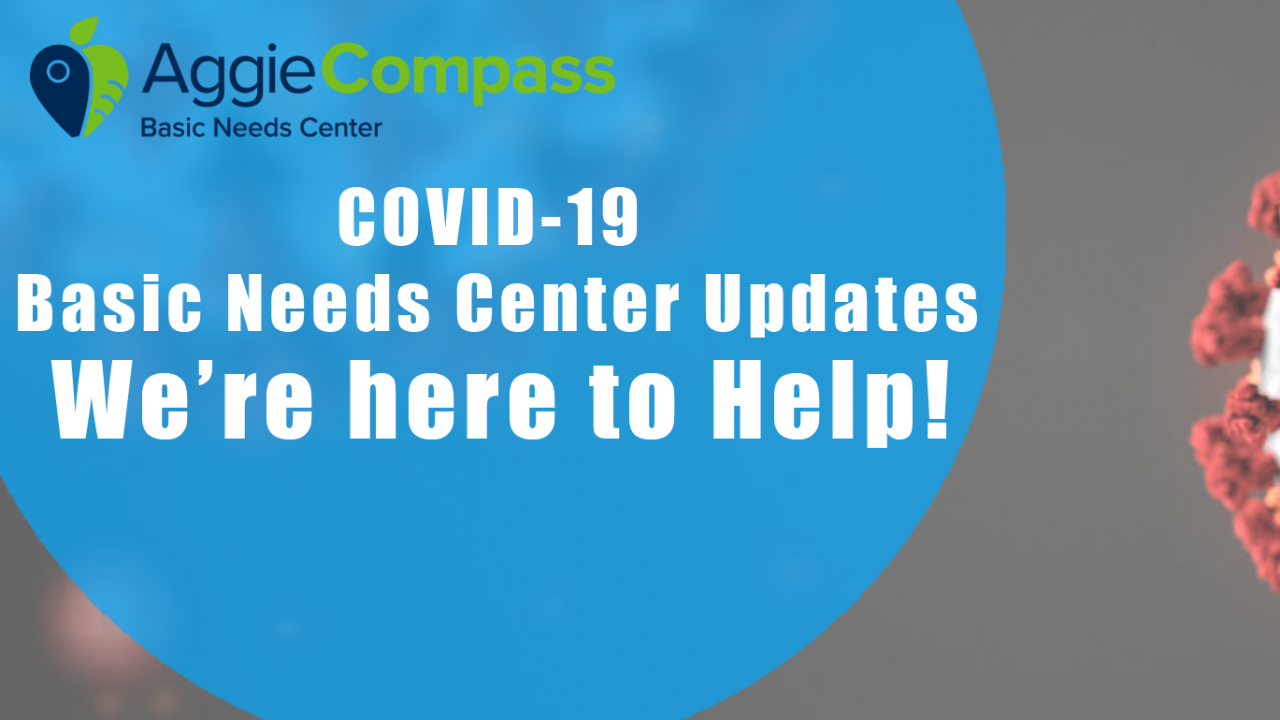 Aggie Compass and the ASUCD Food Pantry are considered essential services and will remain available remotely and in different ways. We will be monitoring the situation closely in these next few weeks and will move in alignment with public health and city decisions. This webpage will be updated frequently with new resource information.
All Basic Needs Center services are still available and provided remotely. 
If you are a student in need of housing or emergency food resources, please submit a
Basic Needs Assistance Form
.
FOOD RESOURCES
ASUCD PANTRY is CLOSED until further notice due to the Governor's order to shelter-in place.  We are transitioning to weekly service. Leave your email at the left of this page to receive Basic Needs updates and info.
AGGIE COMPASS is OPEN and all services are available remotely. If you are a student lacking adequate nutritious food, homeless, at risk of losing housing, etc., please communicate with us:
​​​​​CALFRESH application support will still be offered by phone or Zoom.
Make an appointment with the CalFresh Team online
CALFRESH COVID RELIEF UPDATES

As of April 28, 2020 you can use your EBT card to make purchases online. Individuals and families can purchase groceries online using their EBT card at Amazon and Walmart. 
No one will be cut off from CalFresh food stamp benefits at this time.
In April, CalFresh recipients will receive an Emergency Allotment (EA) on their Electronic Benefit Transfer (EBT) Card. There will be two EA's issued; one on April 12th and one on May 10th. The first EA will be for any household that received CalFresh in March and the second EA for any household that received CalFresh in April.
CalFresh clients who have recertifications or SAR-7s due before June do not need to complete them now and will not lose their benefits.
Stimulus payments do NOT count as income for CalFresh
More CalFresh updates from California Food Policy Advocates.
The Aggie Meal Share Program provides Dining Commons swipes for students in need of assistance. During the statewide shelter-in-place the Dining Commons is offering meals to go.
All Yolo County CALFRESH offices are currently closed to the public
, therefore students are encouraged to make an appointment with
 the CALFRESH TEAM
for a prescreen and online application support.
YOLO FOOD BANK has committed to being open during this time and offers food distribution in several locations around the City of Davis and Woodland.
Yolo Food Bank offers a free home-delivery food service
. The program will continue until further notice. Please call 530-668-0690 or email
info@yolofoodbank.org
to participate. 
FREE COMMUNITY MEALS*
Davis Community Meals

St. Martin's Episcopal Church, 640 Hawthorn Ln.
Tuesdays, Thursdays and Saturdays, 5:45 - 6:30pm 

Grace in Action Lunch and Fellowship

Davis United Methodist Church, 1620 Anderson Rd.
Mondays 12pm - 1:30pm
Pole Line Baptist Church, 770 Pole Line Rd. 
Fridays, 12pm - 1:30pm

Faith and Food

Davis Community Church, 412 C St.
Fridays, 12pm

Yolo Food Bank - pantry staple bags

C Street patio, Davis
Saturdays, 12pm
*All organizations have switched to "to-go meals" ranging from cold sandwiches to clam shell packed microwavable meals. There are free community meals available all days of the week except for Sunday.
FRESH TEXT will send you text messages about food distributions in Davis by texting TOMATO to 888777.
ADDITIONAL FOOD SUPPORT can be found in the Davis community.
 
BASIC NEEDS SERVICES
CASE MANAGEMENT/CRISIS RESOLUTION SERVICES
Case management services are provided to students who are in need of support around their food, housing, mental wellness and financial needs. Please communicate with us:
OTHER BASIC NEEDS SERVICES
FAMILY/PARENT RESOURCES
Sign up for the Student Parent Listserv to get updates about resources for parents and families.

Student Parent Closet distribution of pre-packaged bags of diapers, hygiene products, and K-12 educational supplies will be announced weekly through the listserv.
If you have any questions email Danielle Martinez at dlmartinez@ucdavis.edu or Cecily Nelson-Alford at cnelsona@ucdavis.edu

Campus, community, and online resources for parents and kids, can be found here. 
FINANCIAL SUPPORT
Basic Needs Program 

This program may provide case management, economic assistance and other resources to ensure both graduate and undergraduate students have safe, secure housing and/or reliable access to food.

Apply Here.
The SERA (Student Emergency Relief Aid) winter quarter award application (formerly WeAreAggiePride) has been reopened until June 11, 2020.  
Short Term Loan Programs (UC Davis Financial Aid) Students experiencing a temporary shortage of funds may request an Emergency and/or Short-Term loan. 
The California College Student Emergency Support Fund helps address emergency needs for the state's low-income college students, including undocumented immigrants, foster youth, and those who are housing insecure.
UC Davis Financial Aid Economic Crisis Team
Drop-in at the Financial Aid Office, 1100 Dutton Hall, for economic crisis services.
Visit Financial Aid's Economic Crisis web page. This page offers resources for immediate financial assistance from UC Davis, the City of Davis, Yolo County and federal programs.
MENTAL WELLNESS
In Crisis?
Text 'RELATE' to 741741 for free, immediate and confidential crisis support by text message.
If you are on campus and are having a mental health crisis, visit us at 219 North Hall from 9:00 a.m.–4:30 p.m., Monday–Friday (Mental Health Crisis Consultations Services are currently not available at the Student Health & Wellness Center)
COVID-19 GUIDANCE